ARE YOU BUYING A PUPPY?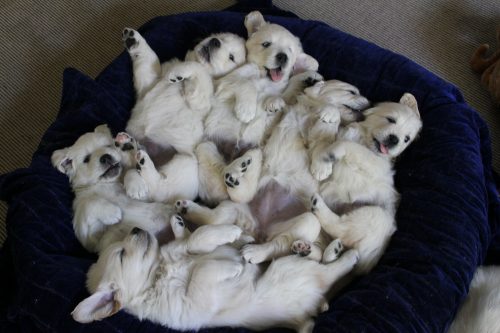 All enquiries for puppies or adult dogs should be sent via the "contact us" page on this website OR email the club's Puppy Information Officer:
Margot Stuckey – goldkey1@ihug.com.au
Our office hours are Monday to Friday 9 am to 5 pm not including public holidays.
We recommend:
You read the balance of this page as it contains valuable information that will assist you finding the right breeder of your new puppy.
You view the video at the bottom of this page.
You purchase An Australian Guide To Buying A Happy Healthy Golden Retriever: Puppy book
Finding a Breeder:

The Golden Retriever Club of NSW recommends that puppies are purchased from a member of our club or the Golden Retriever clubs in other states, who are also registered breeders with their state canine controlling authority for pedigree dogs, in our case Dogs NSW.  Members of our club are experienced and engaged with the breed they are involved in showing their dogs for conformation and activities such as obedience, tracking, agility, retrieving trials or other officially recognised dog sports.
The club warns against purchasing puppies from other sources as they are not accountable for their breeding or the health and welfare of puppies.  Puppy farms and backyard breeders advertise through general media such as; Gumtree, The Trading Post, Facebook and other social media sites. We also warn against buying a puppy from a Pet Shop.
ANKC (Australian National Kennel Council) Registered breeders most commonly advertise their pedigree puppies through a premium website:  www.dogzonline.com.au
We do suggest to you that when you are interviewing breeders you ask about their experience and involvement with the breed including the question: "What dog sports are you as a breeder, involved in with your dogs? e.g. obedience, trialling, agility, tracking or showing?" To understand if they are a responsible breeder you could also ask: "Why have you bred this litter?" Keep in mind that back yard breeders and puppy farmers are breeding for profit and do not participate in dog sports that support pedigree dogs or the improvement of the breed. Generally they are not involved in any organised activities, they do not do obedience, trialling, agility, retrieving, tracking or showing their dogs.  You should also be asking if they are a member of any Golden Retriever Club in any state in Australia.  Breeders that are members of their state breed club are held to a higher standard (see our Code of Ethics for full details.)  When buying a pedigree puppy a registered breeder MUST provide you with a copy of the puppies ANKC (Australian National Kennel Council) certified pedigree.  Here is a sample of a pedigree certificate  –  SAMPLE PEDIGREE PAPERS. If you are considering purchasing a puppy that does not come with an ANKC certified pedigree then the breeder is not a registered breeder with the ANKC and you will have no proof that the puppy you are buying is in fact a pedigree/purebred dog.
To check that a breeder you are speaking to in NSW is a registered breeder, go to:  https://www.dogsnsw.org.au/Breeders/check-registered and enter either their kennel name (prefix) or membership number, if they are in another state you can go to: http://ankc.org.au/ scroll down to registered breeder check and enter either their kennel name (prefix) and membership number.    Alternatively you can also email or call that state's controlling body or the Golden Retriever Club in that state.
Now let's talk health …….When speaking to breeders you need to ensure that both parents are health tested and have health certificates recommended by the National Golden Retriever Breed Council.  A reliable breeder should be able to provide proper advice about the health of the breeding dogs (your puppies parents)
There are four essential tests for a Golden Retriever:
Hips & Elbows, done once when the breeding dog/s are 12 months of age.  The lower the score the better with 0:0 being perfect, the breed average for the last 5 years now sits below 10, the average since the breed was in Australia (now over 100 years) is 15, the highest score is 106 (53 for each side).  These are total scores, which are calculated by adding the score from the left hip and the right hip together to give a final number  e.g.  A dog with 1:1 hips has a total score of 2, a dog with 5:6 hips has a score of 11.  Elbows are scored on a scale at 0, 1, 2 or 3, again a dog with a score of 0:0 is perfect.  Responsible breeders avoid using high scoring dogs in a breeding program.  To have a hip & elbow score on any dog the owner presents the dog to a vet for three x-rays (one for the hips and one for each elbow), the x-rays are sent to one of the ANKC approved panelists for scoring and recording on the ORCHID data base, the resulting certificate is forward to the dog/s owner.  Dogs with high scores for either hips or elbows should not be part of any breeding program.
Hearts, done once when the breeding dog/s are 12 months of age.  Here a specialist K9 cardiologist listens to the heart to determine if the dog/s have Subaortic Stenosis (SAS), also known as a heart murmur, should a murmur be detected the dog is referred on for an echo cardiogram where the murmur is graded and a certificate is issued.  Should the heart be normal the certificate will read: "no murmur auscultated" and a clear heart certificate is issued.  Dogs with heart murmurs should not be part of any breeding program.
Eyes, dogs eyes are similar to human eyes in that they change over time, our club's Code of Ethics requires breeding dogs to be tested annually.  Eye certificates are issued by a specialist K9 ophthalmologist.  Should a hereditary eye disorder be identified by the specialist the eye certificate will indicate the type of disorder diagnosed and the certificate issued, should no eye disorder be detected the certificate will state "normal eyes".  Dogs with hereditary eye disorders should not be part of any breeding program.
Responsible breeders should be pairing dogs aiming to achieve low hip & elbows scores and avoid hereditary conditions in order to improve the breed.
Older Golden Retrievers are occasionally available from our Club members, enquiries can be directed to our Puppy Information Officer.  Older Goldens can also be obtained through Golden Retriever Rescue
You as the buyer of a puppy should expect to see the certificates for each of these four areas for both the mother & father of your puppy.  If you cannot see these document or the documents have sections blacked out or removed we recommend you DO NOT proceed with the purchase of a puppy from that breeder.  There is no valid reason for dogs names, vets signatures and date of tests to be removed from a certificate.  In fact it is part of Dogs NSW Rules & Regulations (clauses 19ii & 19iii) "……..the breeder must provide copies of all relevant health testing results of the sire, dam and puppy……..."  Click here to download Dogs NSW Code of Ethics
Health certificate information indicates a breeder is breeding responsibly and aiming for breed improvements.  Be wary of breeders that indicate DNA testing of the parents negates the need for hip, elbow, heart & eye certificates, this is totally incorrect.  Currently there are no DNA tests that cover these four major health areas.
There are three DNA tests available to Golden Retriever breeders, they are for PRA-1, PRA-2 (eye disorder) and Ichthyosis (dandruff), these are not mandatory tests for the breed.  Please contact the state breed club if you would like additional information about health testing and certificates for Golden Retrievers.  Breeders that tell you their DNA tests on their puppies mean the four major tests (hip, elbows, heart & eyes) are not required are not correctly informed.  There are NO DNA tests for hips, elbows, heart & hereditary cataracts (eyes).
Your puppy should be registered with Dogs NSW (or the state controlling body in which the breeder resides) and you should receive a documented pedigree from the Australian National Kennel Council (ANKC). Be aware that some unregistered breeders may say that your puppy comes with papers, it's important you check that they mean the puppy comes with an official ANKC pedigree certificate and not just the microchip papers.  Your puppy must also be vaccinated, microchipped and have been wormed at 2, 4, 6 & 8 weeks of age. It is illegal to sell a puppy in Australia that is not microchipped and younger than 8 weeks of age.
The Club recommends that prospective buyers thoroughly discuss the above details with the breeder.
The table below, titled "Advertising Club Members" are breeders who are members of our Club who have chosen to advertise on the Golden Retriever Club of NSW Inc. website.
This table of advertising breeders does not in any way reflect or imply an endorsement or guarantee by the Golden Retriever Club of NSW Inc. of the breeder, their dogs, their kennels or their breeding practices. This is for the buyer to ensure and the breeder to provide. The club makes no judgments about the parents (sire & dam) or any of their features, including hereditary test results.
Our members choosing to advertise on our site are listed alphabetically by prefix for your convenience. These advertisements are not an indication that the breeder currently has puppies, it is simply a list of breeders who have chosen to take out an advertisement with the club. Our club members and our Constitution do not allow us to publish a list of club members, however if you would like to check to confirm the breeder you are currently speaking with is a members of The Golden Retriever Club of NSW Inc., you're welcome to direct this question to our Puppy Information Officer or the Club's Secretary.
Disclaimer:

The breeders who appear on this website are breeders that The Golden Retriever Club of NSW understands may have litters for sale. They are members of Dogs NSW and Golden Retriever Club of NSW. In providing you with their details, The Golden Retriever Club of NSW makes no representations as to the reputation of any breeder or as to the soundness or suitability of any puppy you may decide to acquire from any breeder. You must satisfy yourself that any puppy you may decide to acquire is healthy, sound and meets your requirements.
The Golden Retriever Club of NSW accepts no responsibility in respect of the information contained in the Advertising Club Members or in respect of any puppy that you may decide to acquire from any breeder.
All breeders who are current members of Dogs NSW have agreed to abide by the Dogs NSW Regulations, including the Code of Ethics, and members of The Golden Retriever Club of NSW have also agreed to be bound by the Club's Code of Conduct.
The Golden Retriever Club of NSW requires breeders to test their dogs involved in breeding for certain hereditary conditions recommended by the National Golden Retriever Council through tests that are supervised by the Australian Veterinary Association. Some breeders also undertake optional testing which is available for some conditions through commercial genetic technology.
Due to the complex nature of genetics the results of any hereditary testing can only provide an understanding of the genetic type and background of the dogs used in the breeding, it is not possible to predict or guarantee the health of any of their offspring.
Advertising club members:  ADVERTISING CLUB MEMBERS 2022-2023
So you want a Golden Retriever Puppy, please view this video