BUYING A PUPPY?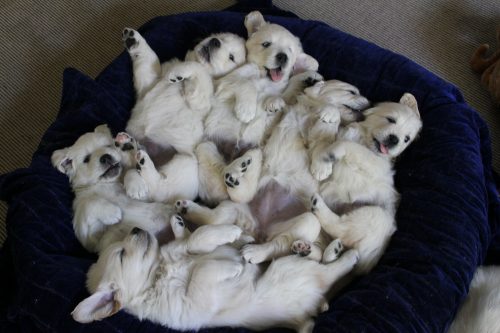 The Golden Retriever Club of NSW has a Puppy Enquiry Officer to handle all puppy enquiries. All puppy & adult dog enquiries are to be directed via email to: Margot Stuckey – goldkey1@ihug.com.au alternatively use the "contact us" page on this website.  
We do recommend that you read the balance of this page as it contains valuable information that will assist you in finding the right breeder of your new puppy.
Finding a Breeder:

The Golden Retriever Club of NSW recommends that puppies are purchased from a member of our club or the Golden Retriever clubs in other states, who are also registered breeders with their state canine controlling authority for pedigree dogs, in our case Dogs NSW.
The club warns against purchasing puppies from other sources because they are not accountable for their breeding or the health or welfare of puppies, including inexperienced or unregistered backyard breeders, retail or on-line pet stores or puppy farms. Members of the club are experienced and engaged with the breed and are involved in showing their dogs for conformation and activities such as obedience, tracking, agility, retrieving trials or other officially recognised dog sports.
We do suggest to you that when you are interviewing breeders that you ask about their experience and involvement with the breed including the question: "What are you as a breeder, doing with your dogs? e.g. obedience, trialling, agility, tracking or showing?" To understand if they are a responsible breeder you could also ask: "Why have you bred this litter?" Keep in mind that back yard breeders and puppy farmers are breeding for profit and do not participate in dog sports that support pedigree dogs or the improvement of the breed. Generally they are not involved in any organised activities, they do not do obedience, trialling, agility, retrieving, tracking or showing their dogs.
We recommend you not buy puppies from general advertising on either Gumtree or any Buy/Swap/Sell sites. These mediums are used exclusively by back yard breeders and puppy farmers. The premium and mostly commonly used site for advertising pedigree dogs is dogzonline.com.au
When speaking to breeders you need to ensure that both parents are health tested and have clearance certificates recommended by the National Golden Retriever Breed Council. A reliable breeder should be able to provide proper advice about the health issues and the dogs involved in the breeding. This also means you should be able to see the hip & elbow scores along with the heart & eye certificates. Health certificate information will indicate when a breeder is breeding responsibly and aiming for breed improvements.
Please contact the club if you would like additional information about health testing and certificates.
In the case of hips and elbows, low scores are preferable and breeders should be pairing dogs aiming to achieve low scores to avoid hereditary conditions and to improve the breed. Scores of 0:0 are ideal in the range for hips and for elbows. The breed average for hips currently is a total score of 15 per dog, the average score of the last 5 years now sits at 10. Elbows are scored on a scale at 0, 1, 2 or 3. Responsible breeders avoid using high scoring dogs in a breeding program.
Eye certificates must state that the parent dog is CLEAR of hereditary eye disease and likewise the heart certificate needs to state the parent dog is CLEAR. Like humans a dogs eyes change over time so for the eye certificate to be current it must be dated within 12 months of the mating.
Your puppy should be registered with Dogs NSW and you should receive a documented pedigree from the Australian National Kennel Council. Your puppy must also be microchipped and have been wormed at 2, 4, 6 & 8 weeks of age. It is illegal to sell a puppy in Australia that is not microchipped.
The Club recommends that prospective buyers thoroughly discuss the above details with the breeder.
The table below are breeders who are members of the Club who have paid to advertise on the Golden Retriever Club of NSW Inc. website.
This table of advertising breeders does not in any way reflect or imply an endorsement or guarantee by the Golden Retriever Club of NSW Inc. of the breeder, their dogs, their kennels or their breeding practices. This is for the buyer to ensure and the breeder to provide. The club makes no judgments about the parents (sire & dam) or any of their features, including hereditary test results.
Our members choosing to advertise on our site are listed alphabetically by prefix for your convenience. These advertisements are not an indication that the breeder currently has puppies, it is simply a list of breeders who have chosen to take out a paid advertisement with the club. Our club members and our Constitution do not allow us to publish a list of club members, however if you would like to check to confirm the breeder you are currently speaking with is a members of The Golden Retriever Club of NSW Inc., you're welcome to direct this question to the Puppy Inquiry Officer.
Disclaimer:

The breeders who appear on this website are breeders that The Golden Retriever Club of NSW understands may have litters for sale. They are members of Dogs NSW and Golden Retriever Club of NSW. In providing you with their details, The Golden Retriever Club of NSW makes no representations as to the reputation of any breeder or as to the soundness or suitability of any puppy you may decide to acquire from any breeder. You must satisfy yourself that any puppy you may decide to acquire is healthy, sound and meets your requirements.
The Golden Retriever Club of NSW accepts no responsibility in respect of the information contained in the Breeders Directory or in respect of any puppy that you may decide to acquire from any breeder.
All breeders who are current members of Dogs NSW have agreed to abide by the Dogs NSW Regulations, including the Code of Ethics, and members of The Golden Retriever Club of NSW have also agreed to be bound by the Club's Code of Conduct.
The Golden Retriever Club of NSW requires breeders to test their dogs involved in breeding for certain hereditary conditions recommended by the National Golden Retriever Council through tests that are supervised by the Australian Veterinary Association. Some breeders also undertake optional testing which is available for some conditions through commercial genetic technology.
Due to the complex nature of genetics the results of any hereditary testing can only provide an understanding of the genetic type and background of the dogs used in the breeding, it is not possible to predict or guarantee the health of any of their offspring.
Advertising club members:   ADVERTISING CLUB MEMBERS